Description
HEAVY DUTY
Whether you're a bodybuilder or adding to your home gym, your Premium Resistance Band Handles fit. Because of their heavy-duty construction, they outlast the toughest workouts. Everyday use? Absolutely!
Premium materials, our handles have an industrial strength ABS plastic core. Soft foam padding adds a non-slip tight grip. Thick woven nylon webbing is double stitched with heavy duty threading. The welded heavy gauge stainless steel D-ring makes is a study end-piece to clip onto. GenerationFit's Premium Handles are built to last and work as hard as you do.
With sturdy construction, these Premium Handles can take the most punishing workouts. Use with resistance bands, your home gym or in Crossfit, they withstand any workout.
Unlike rubber grip handles, a sturdier designed handle does not bend. Rubber grip handles bend or break under a heavy load. Therefore, we have designed our Premium Resistance Band Handles specifically with the industrial strength materials chosen.
COMFORT GRIP 
Workout with handles made with soft foam padding for maximum comfort. A durable grip that feels good in your hands. The flexible nylon webbing adds to the ease of use.
One size fits all. GenerationFit's extra wide design accommodates all hand sizes. Perfect size for men and women. The right handles let you focus on your workouts, not on making adjustments to your hands.
5 1/2 in width means plenty of room to grip, unlike the smaller handles on the market. There is a difference!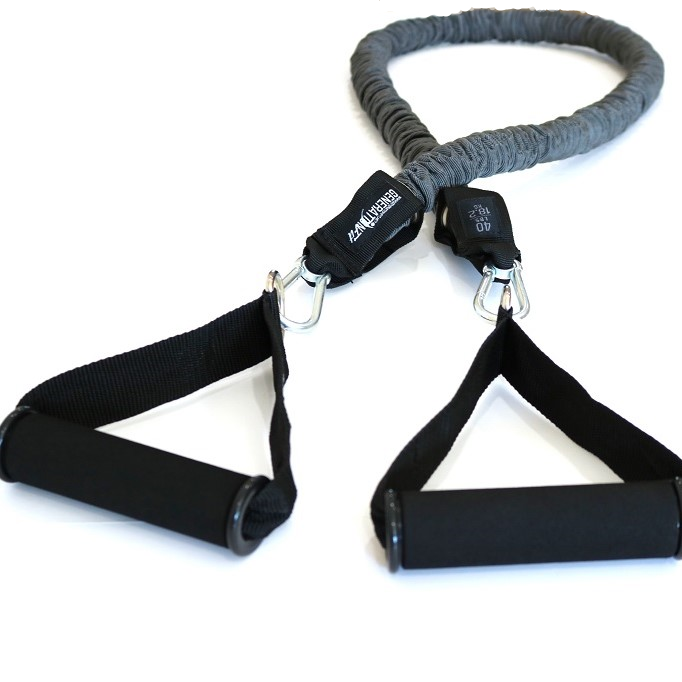 FOR ALL WORKOUTS      
These handles are ready for stackable resistance bands.  Attach multiple bands onto each heavy gauge steel D-ring. No problem! Use with your GenerationFit bands, pilates reformer, bowflex, cable machine, or your home gym. They are easy to wash and will last the test of time.
A universal design means they go easily from a home gym to a commercial gym. Perfect for performing cable crossovers, tricep kickbacks, lateral shoulder raises and more. The right handles for the right results, regardless of where you train.
STRENGTHENING MATTERS 
Healthy muscles let you move freely and keep your body strong. Strong bodies also have strong bones. Resistance training, also known as strength training, increases bone mineral density.
Aerobic activity is important for our lungs and our heart. It is effective in weight loss, however it is not the best in burning fat and increasing muscle. If you lose weight strictly through cardio (aerobic) activity, you are losing both fat and muscle. If resistance training isn't part of your routine, you could slow down your metabolism by losing lean muscle mass. This can lead to weight loss plateaus. Building lean muscle speeds up your fat-burning metabolism.
Using GenerationFit's Premium Resistance Band Handles with GenerationFit's Resistance Bands to build strong, healthy muscles will provide balance, strength, help you lift things and pump blood through your body. Performing these exercises even boosts immunity. Feel good knowing that your resistance training exercises play a critical role in preventing disease while enhancing your health – particularly as you get older.
.
The right products help you accomplish twice the results with half the effort.