Description
Fit Kits
GenerationFit designed the simplicity of Fit Kits so that you can take them anywhere. Get a full body workout with endless exercise routine options. Tone, sculpt and torch calories with your convenient, effective Fit Kit. The Fit Kit Glide includes Glide Discs so you can challenge your core.
Benefits Of Using Flat Bands:
Whether you're a beginner or an expert, resistance bands are for you. They come in a variety of resistances, they are portable and offer unlimited usage options.
When strengthening, you can further adjust the intensity of your workouts by giving the band more or less slack. GenerationFit offers accessories for their bands, sold separately, to add more variety.
Use for a full-body workout and challenge every major muscle group. Target specific muscle groups including your core. Premium elasticity and durability guaranteed.
Eco-friendly 100% natural latex. Each band measures 6″ X 60″. The extra length provides for more exercise options.
3 levels of resistance – As you grow stronger, proceed to the next level band.
Glide Your Way Fit:
Looking to transform your workouts and challenge your fitness? Glide Discs are a perfect portable training tool for a full body toning and sculpting workout. The Fit Kit Glide provides everything you need, with the added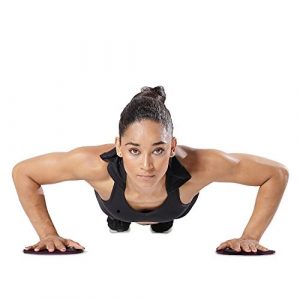 bonus of Glide Discs.
The glider pushup combines the benefits of a bench press and a chest fly. For legs, try new lunge variations. Challenge your core with plank knee-in's or pikes.
Proven results, using glide discs will improve your strength, core and endurance. Kick up your cardio program with mountain climbers using your discs. Perform burpees with gliding discs, try skiers.
GenerationFit's Glide Discs have become a go-to for HIIt training.
GenerationFit has designed their Glide Discs larger than the industry-standard 7 inch, allowing for ¾ of an inch more space to place your hands or feet. Dual-sided,  to slide smoothly on carpet, tile or hardwood floors.
Jump Rope – Greatest Calorie-Burner
Ideal for warm-ups or in-home cardio, jump ropes are one of the best investments that you can make in your workout gear.
A Better Choice
Our Performance Cardio Speed Rope is one size fits all, adjust the length to the correct setting in less than 5 minutes. Tangle -resistant and built for repeated use. The Performance Speed Rope outlasts others on the market.
Burn Fat And Lose Weight
Grab your Performance Speed Jump Rope and implement this calorie-torching exercise into your regular routine. You're guaranteed to see results. You can burn more than 200 calories in two 10-minute sessions each day (that's 1,000 calories a week)!  For people who do not have time to workout: 10 minutes of jumping rope is equivalent to 30 minutes of jogging. 
Use your Performance Jump Rope in circuit training, a HIIT routine, or in addition to your strength training workout. Jumping rope is one of the best workouts you can do. You'll burn fat, lose weight, and improve your cardio, all while gaining lean muscle mass.
     Includes:
     3 Resistance Flat Bands. Light, medium and heavy.
     Set of Glide Discs
      Performance Jump Rope
      Carry Bag